MIDEXX-3D Liquid Color Dosing SystemGravimetric Dual Drive Dosing System powered by MIDEXX™ for Continuous Liquid Color Dosing
The new Dual Drive Dosing platform powered by MIDEXX™ is equipped with two liquid color pumps and designed for continuous dispensing of Liquid Colorants and Additives.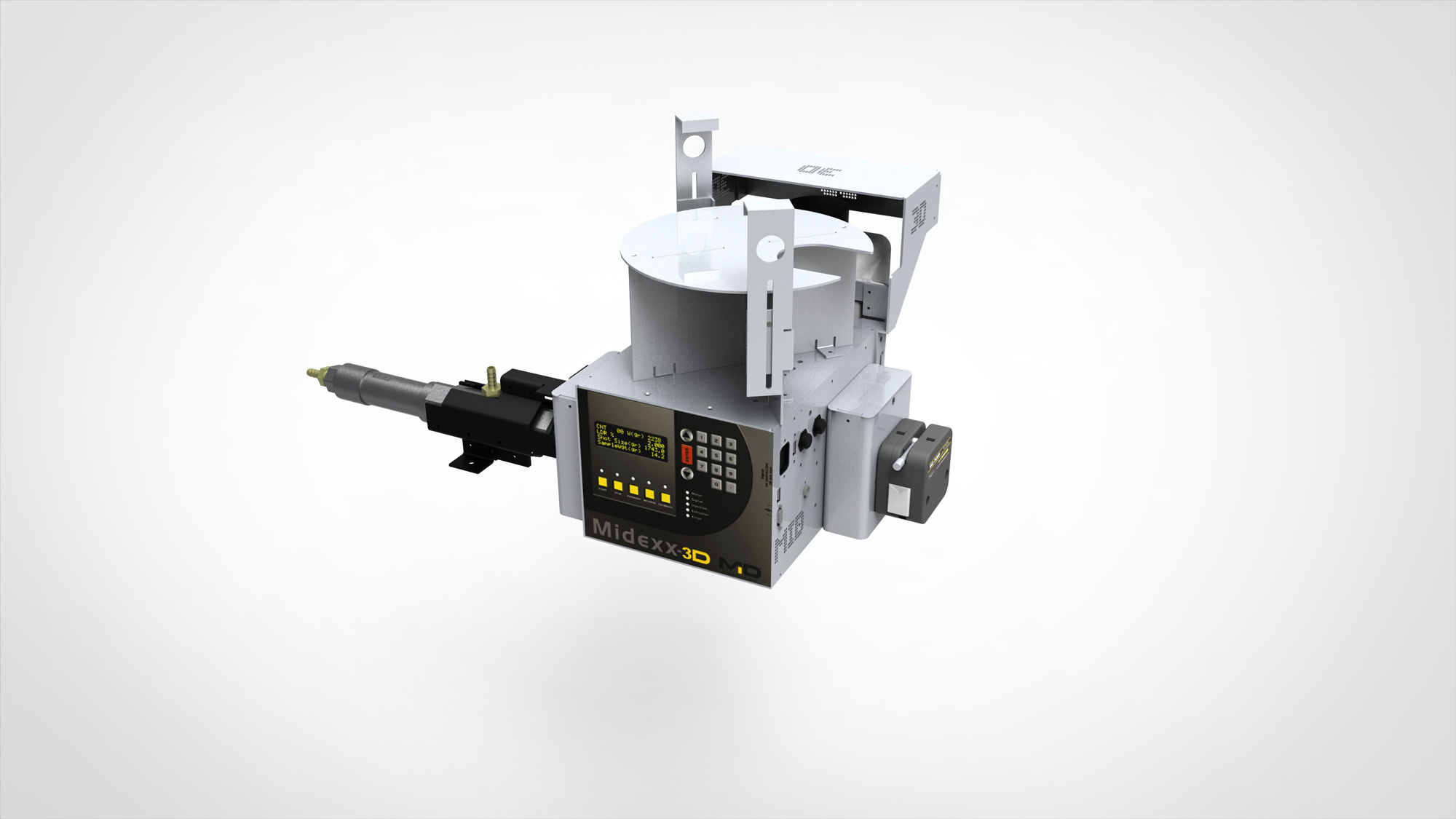 MIDEXX-3D is a Dual Drive Dosing platform designed for continuous dispensing of Liquid Colorants and Additives. This compact desktop gravimetric dosing system has been equipped with two pump-heads; one to dispense the liquid and another to refill a dosing reservoir. The reservoir refill system allows for color source replacement that is fast and easy without interruption of dosing. MID proprietary gravimetric dispensing technology combined with the unified re-fill reservoir design enables this system to dispense 24/7 with extreme accuracies which makes it a perfect dispensing system for continuous applications.
Powered by MIDEXX™ system by Micro Interface Design, paired with progressive cavity pumps or peristaltic pumps.Explore different combination of MID liquid color pumps to start a perfect long-run application for all kinds of liquid colorants and additives.
Progressive Cavity Pump: MID-PCP liquid color pump, Size 0.1, MID-PCP Size 0.5, MID-PCP Size 1.0, MID-PCP Size 2.0
The versatile MID Progressive Cavity Pump is unparalleled for its design and quality that allows extreme accuracy, durability, flexibility and convenience. Comes with 4 different sizes for various applications!
Aluminum Peristaltic Pump: liquid color pump MID-15-3, MID-15-6
MID peristaltic dosing pumps provide high levels of strength and durability as well as accuracy and precision. Pair with MIDEXX™ system and tubings to achieve the best application performance.
Explore more MID products for Continuous Liquid Color Dosing and Dispensing:
MID Adaptive Gravimetric Dosing Control technology
Dual Drive Peristaltic or Progressive Cavity pump-head
Desktop, ergonomic and compact engineered design
Smallest foot print for an automatic Continuous dosing system
Disposable 4.0 Liter liquid Re-fill reservoir
Versatility to work with all types of Packaging: Pail, Drum, Tote, etc
Minimum residue/waste of liquid colorant
Wireless Remote Control and Monitoring connectivity (optional)