MIDEXX-3D Liquid Color Dosing SystemDual Drive Dosing System powered by MIDEXX™ for Continuous Gravimetric Dosing of Liquid Color and Additives
The new Dual Drive Dosing platform powered by MIDEXX™ is equipped with two liquid color pumps and designed for continuous gravimetric dosing and dispensing of Liquid Colorants and Additives.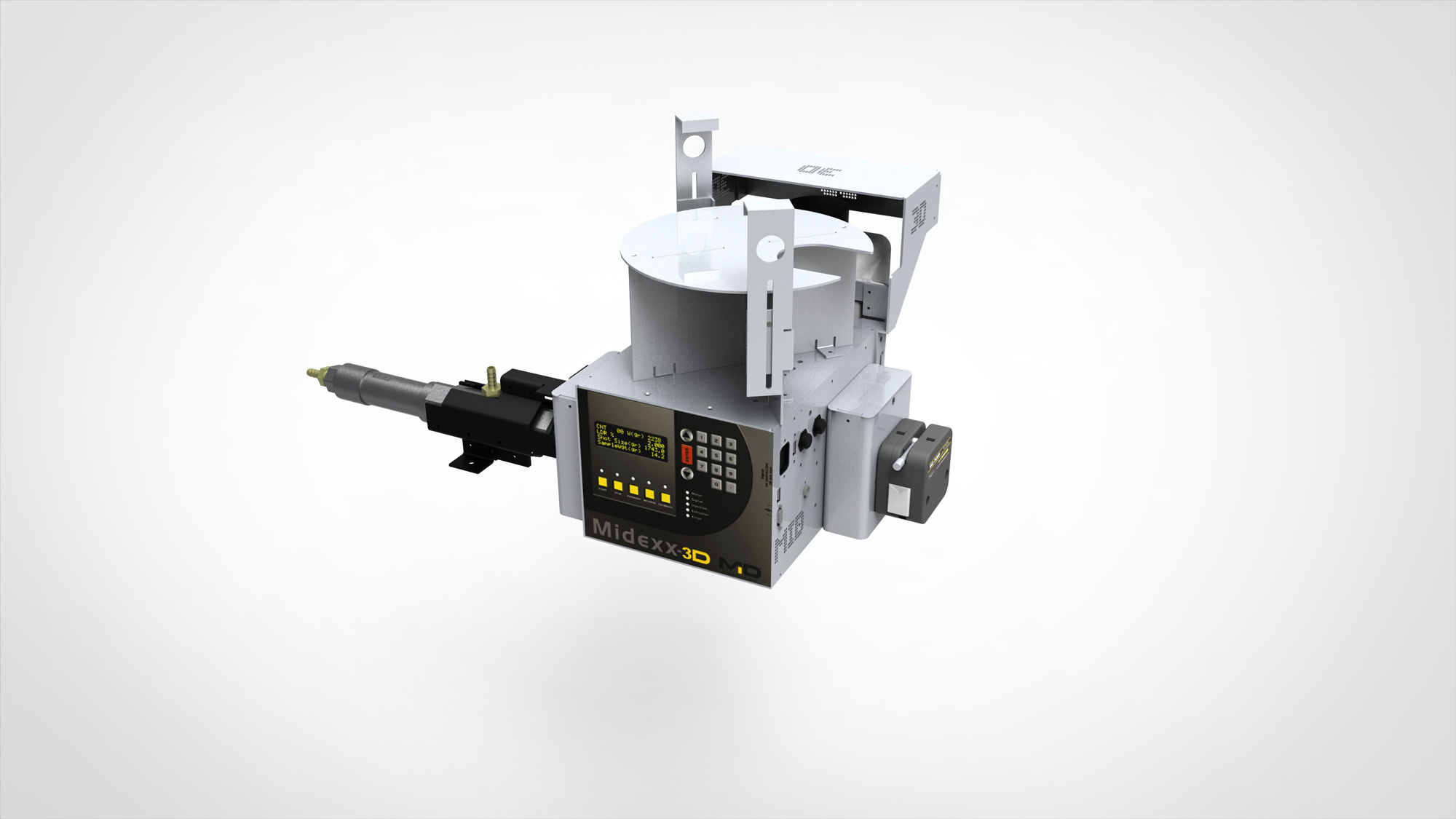 MIDEXX-3D is a dual-drive dosing platform designed for continuous gravimetric dispensing of liquid colorants and additives. This compact desktop gravimetric dosing system has been equipped with two pump-heads: one to dispense the liquid and another to refill a dosing reservoir. The reservoir refill system allows for color source replacement that is fast and easy without interrupting your dosing process. MID's proprietary continuous gravimetric dispensing technology combined with the unified refill reservoir design enables this system to dispense 24/7 with extreme accuracy.
Powered by our MIDEXX™ system, pair the MIDEXX-3D with progressive cavity pumps or peristaltic pumps. Explore different combinations of MID liquid color pumps to start a perfect long-run application for all kinds of liquid colorants and additives.
Progressive Cavity Pump: MID-PCP liquid pump, Size 0.1, MID-PCP Size 0.5, MID-PCP Size 1.0, MID-PCP Size 2.0
The versatile MID Progressive Cavity Pump is unparalleled for its design and quality that allows extreme accuracy, durability, flexibility and convenience. Comes with 4 different sizes for various applications!
Aluminum Peristaltic Pump: liquid pump MID-15-3, MID-15-6
MID Peristaltic Dosing Pumps provide high levels of strength and durability, as well as accuracy and precision. Pair it with MIDEXX™ system and tubing to achieve the best application performance.
Explore more MID products for Continuous Liquid Color Dosing and Dispensing:
MID Adaptive Gravimetric Dosing Control technology
Dual-Drive Peristaltic or Progressive Cavity Pump-head
Desktop, ergonomic and compact engineered design
Smallest footprint for an automatic continuous gravimetric dosing system
Disposable 4.0 Liter liquid refill reservoir
Versatility to work with all types of packaging: pail, drum, tote, etc
Minimum residue/waste of liquid colorant
Wireless Remote Control and Monitoring connectivity (optional)