Liquid Color Dosing System MIDEXX-GR50MIDEXX™ Gravimetric Liquid Color Dosing System with 50kg Scale Platform
MID proprietory Gravimetric liquid color dosing and dispensing system is an innovative, durable and convenient equipment to achieve accurate liquid color dosing and fast color changes. Pair with MID liquid color pumps to achieve?unrivaled liquid color application.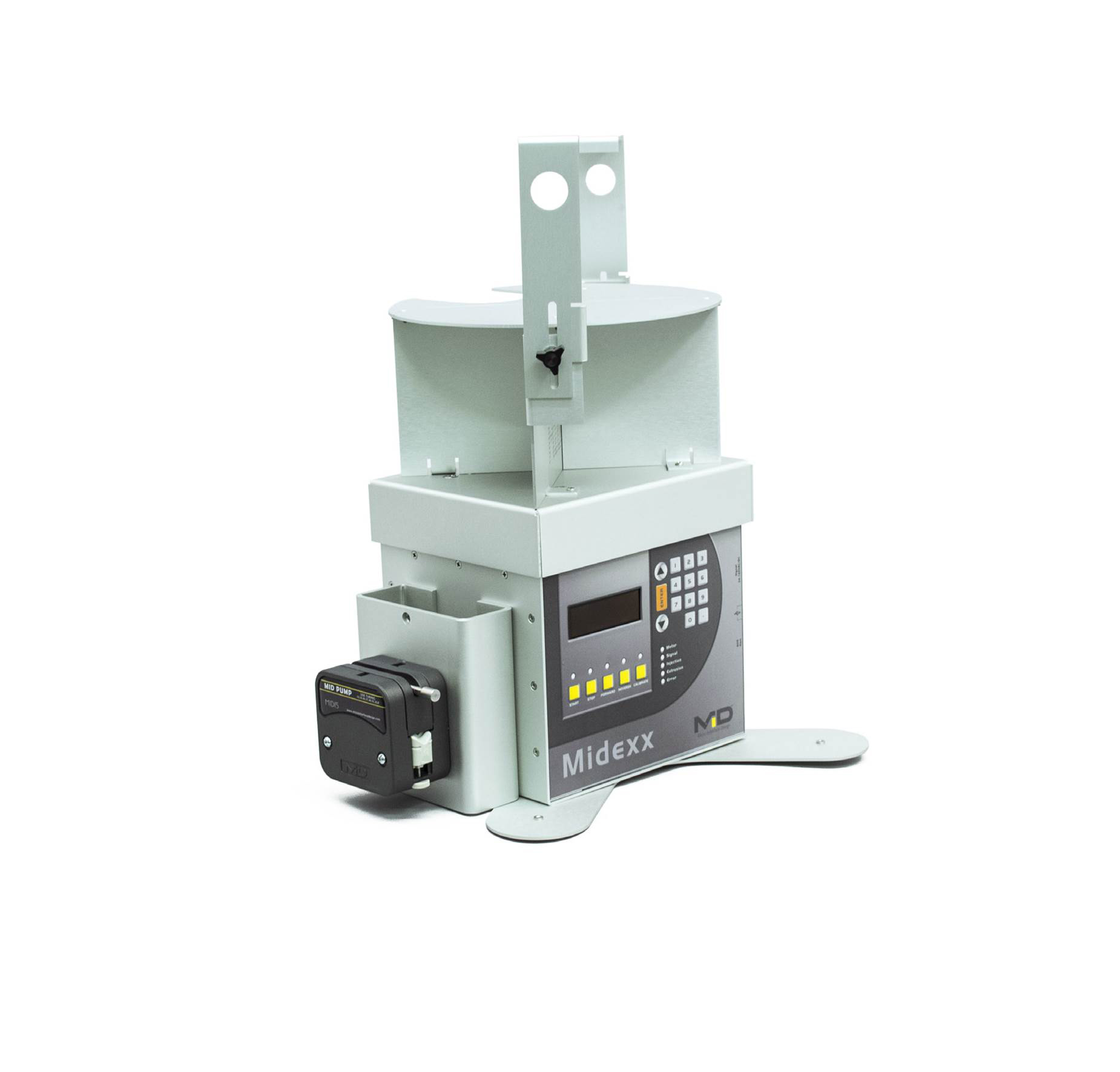 Explore More on MIDEXX-GR50!
MIDEXX™ Gravimetric for liquid color dosing is a loss in weight system which utilizes a very accurate scale system, it requires no calibration and compenstates for fluctuations in material density and wear on equipment and tubing. Shot size and LDR are the only inputs required to start dispensing. The liquid dosing pump will self calibrate continuously.
MID's revolutionary design of the container holder enables fast color changes and little waste of colorant.The optional quick disconnect tubing makes the changing of the colorant easy with no mess for both color dosing pumps and reservoir.
Pair with MID-PCP (Progressive Cavity Pump) or Aluminum Peristaltic Pumps to achieve best liquid color application!
Peristaltic, Progressive Cavity Drive
Volumetric and Gravimetric modes
Stepper Motor Drive for precise metering
Injection and Extrusion modes
Automatic adjustment to injection cycle recovery time variations
Automatic or manual calibration
Automatic storage of settings during power down
Electrical power input of 100-220 VAC, 50/60 Hz
Unit Weight = 10Kg
Two year warranty
USB connection
Wifi connectivity (optional see Remote Monitoring and Control)
Model: MIDEXX-GR50 | Motor Speed: 0.7-300 (rpm)
Dimension (width): 305 (mm) 12 (inch) | Dimension (length): 356 (mm) 14 (inch) | Dimension (height): 381 (mm) 15 (inch)
Weight: 10 (Kg) 23 (Ibs)